Musical Beginnings: 6-24-months
Researchers agree: It's never too EARLY to begin music classes. Baldwin Music Education Center is proud to offer specially designed music classes for 6-month-olds to 24-month-olds. These classes are designed to expose children to music while facilitating interaction between the child and the parent/caregiver. The children are introduced to different kinds of music and the interaction is supported with singing, the use of rhythm instruments and movement. Parents and caregivers learn the fundamentals of how to involve their child with music at home. Classes for 6-24-month-olds meet once a week with a caregiver.
Music for Little People: Ages 2&3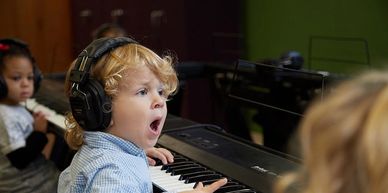 Music For Little People is designed for 2- to 4-year-olds. Each class is divided by age and the material presented appropriate to each level. For most of the 55-minute class, the students are away from the pianos, participating in singing, movement and rhythmic activities. We do take the students to pianos and they develop musical concepts through the keyboard, like "high and low," "loud and quiet" and "fast and slow." Classes end with the making of a take-home reminder of the class content and a parent time. As the students progress through the 2-, 3- and 4-year-old classes, musical concepts such as note values and keyboard topography are also introduced. Music for Little People meet once a week without a caregiver. Caregivers come back into class the last 5 minutes for a class wrap-up and good-bye time.
4's Encounters: Age 4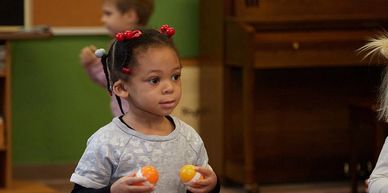 The 4's Encounters is a little more involved than the other preschool music classes, although we still do singing, movement to music, seasonal activities and a craft. In addition to those activities, the students have an "encounter" in piano, voice and a 3rd area - either violin, guitar, percussion or composition. (we do Orchestra Encounter in the Winter and Traveling Around the World in the summer). They learn the note values, the musical alphabet and CDE on the piano. A specialist comes in for violin, guitar and percussion.
Keyboard Encounters: Ages 5&6
Developed with the young learner in mind, this program introduces 5- and 6-year-olds not going into 1st grade to the piano through specially designed, age-appropriate curriculum materials. The students are still developing musical skills through singing, movement and rhythm activities, but also are working on learning the piano and reading music. Each student has both a lesson book and a take-home activity book. Regular assignments are made weekly and students' progress is monitored by parents and staff to ensure the best possible outcome. Keyboard Encounters students meet once a week without a caregiver. Caregivers come back into class the last 5 minutes of class for wrap-up, assignments and good-bye time.
Piano Experiences: Ages 7 on up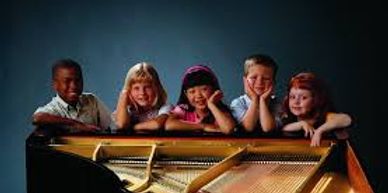 Piano Experiences is a group piano class program for 1st Grade through High School, offering students not only the opportunity to learn to play the piano, but to have fun with friends while they learn. The class is designed for students to learn to play the piano. But not only do students learn how to play the piano, they are introduced each week to other musical activities and concepts including: rhythm, movement, composition, ensemble playing, technique, theory, ear training, music history and musical games. Each group class is formed with students of the same age and level of ability. BMEC is proud to offer one of the only group piano programs in the Greater Cincinnati area, taught by a piano pedagogy graduate and group piano trained instructor. Placement auditions are available for current classes.